SNAPE COTTAGE GARDEN IS NOW CLOSED TO THE PUBLIC
After 26 years of opening for the National Garden Scheme (during which time we have loved welcoming all our visitors and enjoyed sharing the garden), we closed the garden in 2016 and put the house on the market, planning to move to a bungalow!
However, the whole process of moving presented far too much hassle and uncertainty, and we have decided to stay and make adaptations so that the garden is (slightly!) more managable. We are very fortunate to live in such a beautiful place, and nobody could envisage us in a bungalow anyway........
ALTHOUGH THE GARDEN IS CLOSED, SNAPE STAKES AND OBELISKS
WILL CONTINUE TO BE AVAILABLE ALL YEAR ROUND
Snape Stakes and Obelisks WILL CONTINUE TO BE MADE
IN THE SAME STRONG GAUGE STEEL, BUT WILL NO LONGER BE PAINTED
IMPORTANT !! Snape Stakes is strictly closed during August
You are welcome to place an order by phone or Paypal, but please note that you will not receive your order until September
You now have the option of purchasing
SNAPE STAKES on-line using Pay-Pal, for which there is no extra charge.
If you prefer, you can continue
to print the order form and post it to us with a cheque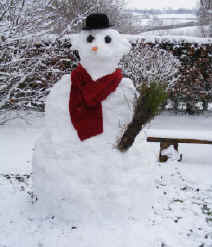 The home of Snape Stakes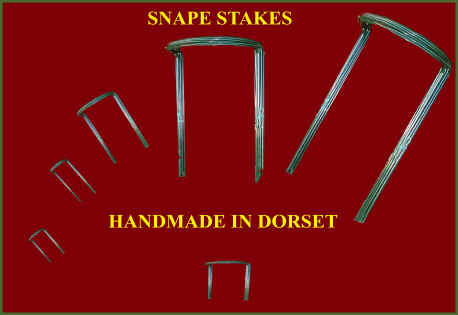 Our Victorian-style half-hoop unpainted Plant Supports are made of solid steel which will not buckle, bend or split. They are so easy to use. Simply push into the ground to a depth of 3" - 6" depending on soil type to support plants firmly (even when they have flopped).
Because they are so strong they can be hammered into very stony soils. They can be pulled wider apart - thus expanding the arc - to accommodate larger clumps of plants. You can use several Snape Stakes around your plants, or back-to-back to form a circle. No linking necessary.
They are unobtrusive in the garden. They support plants firmly without throttling them, thus giving an informal look to your borders. Snape Stakes are so much safer than bamboo canes, which cause countless eye injuries.
Hand Made by Gardeners for Gardeners at
SNAPE COTTAGE PLANTSMAN'S GARDEN,
Bourton, near Gillingham, Dorset SP8 5BZ
ianandangela@snapecottagegarden.co.uk