You now have the option of purchasing
SNAPE STAKES on-line using Pay-pal, for which there is no extra charge.
You may, of course, continue
to print the order form and post it to us with a cheque, or arrange
to collect from us (strictly by appointment) or from a show.
2 weeks notice appreciated.
PLEASE ALSO NOTE THAT SNAPE STAKES AND OBELISKS CONTINUE TO BE MADE
IN THE SAME STRONG GAUGE STEEL, BUT WILL NO LONGER BE PAINTED
IMPORTANT !! Snape Stakes is strictly CLOSED DURING AUGUST
You are welcome to place an order by phone or Paypal, but please note that you will not receive your order until September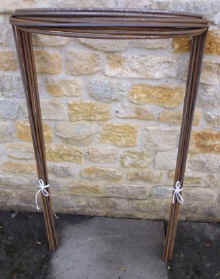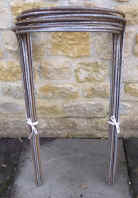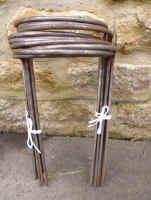 supports available by mail order.
Large ............£40.00 pack of 10...................More info
Tall ................£36.00 pack of10.................More info
Medium.........£27.00 pack of 10..................More info
Small.............£22.50 pack of 10..................More info
Squat.............£22.50 pack of 10..................More info
Mini.................£13.50 pack of 10.................More info
Small ring.......£18.00 pack of 10.................More info
Large ring.......£22.50 pack of 10.................More info