SNAPE COTTAGE IS FOR SALE
We have been open in aid of The National Gardens Scheme since 1989
and have loved welcoming all our visitors over the years and enjoyed sharing our garden with you all
HOWEVER
we are planning to move to a bungalow as we both have chronic back and knee problems (not good for gardeners!)
ALTHOUGH THE HOUSE IS ON THE MARKET, SNAPE STAKES AND OBELISKS
WILL CONTINUE TO BE AVAILABLE ALL YEAR ROUND
All enquiries please to Mr Jon Dakin , Humberts in Sherborne (01935 315784)
There is approximately 2/3-acre of gently-sloping garden on wonderful moist yet free-draining fertile Greensand, facing South, crammed full of thousands of rare, beautiful and historical bulbs and perennials, artistically arranged and everything labelled. 2/3 of the garden is enclosed within a beautiful stone wall, the rest by a beech hedge. Wildlife pond and wealth of wildlife, including glowworms, newts and 61 species of birds. Natural underground springs - I never have to water the garden. Polytunnel, 4 huge compost bays, Summerhouse, Workshop, 2 other sheds, woodstore, Stable, Garage. Featured many times on Television and in many Gardening and Lifestyle magazines. It has been open in aid of the National Gardens Scheme for 26 years.
The very attractive longhouse is stone built, probably late-18th-century, with tiled roof, all in excellent order, with 4 double bedrooms (handbasins in 3), 1 bathroom, 1 wet room, downstairs w/c, utility/scullery, walk-in larder, kitchen, 3 large reception rooms, 2 halls, 2 staircases - lots of character and atmosphere. Oil fired central heating, underfloor heating in large garden room, oil Rayburn (heating hot water), woodburning stove. Long views across the Blackmore Vale to Bulbarrow in quiet lane leading to Penselwood.
The village of Bourton has a Church, Shop, Garage, Doctor's Surgery, Bullpits Golf Course and Pub. There is a Waitrose at Gillingham (10 mins) - home delivery service. Co-op, Morrisons, Lidl, Divine Wines/Coffee Shop, Health Food Shop, Balsam Centre and Vet in Wincanton (3 miles). The prestigious Chaffeymoor Grange is next door (at a discreet field's width distance, and all activities take place on the other side of the Grange). There are good road (A303) and rail (Bruton and Gillingham) connections plus a daily coach service to London . Excellent schools at Bruton, Sherborne, Blandford (Bryanston) and Gillingham, 10 mins drive from Stourhead (National Trust) and new leading Art Gallery and Restaurant (Hauser and Wirth) at Bruton. On the county borders of Wiltshire, Dorset and Somerset in superb walking/riding countryside. 2 hours drive to London , 45 minutes from Bath , 1 hour to the coast. It is a very special place.
PLEASE ALSO NOTE THAT SNAPE STAKES AND OBELISKS WILL CONTINUE TO BE MADE
IN THE SAME STRONG GAUGE STEEL, BUT ARE NO LONGER PAINTED
IMPORTANT !! Snape Stakes is strictly closed during August.
You are welcome to place an order by phone or Paypal, but please note that you will not receive your order until September
Welcome to Snape Cottage Plantsman's Garden
You now have the option of purchasing
SNAPE STAKES on-line using Pay-Pal, for which there is no extra charge.
If you prefer, you can continue
to print the order form and post it to us with a cheque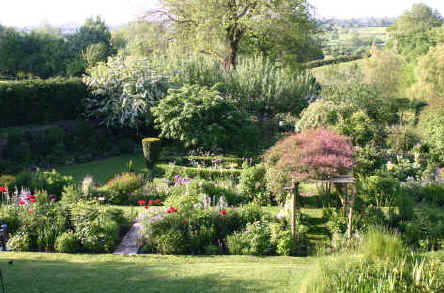 THE GARDEN UNDER SNOW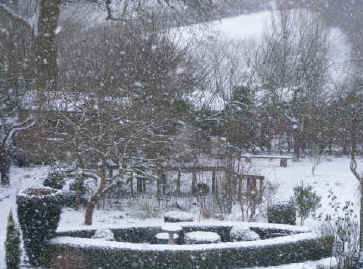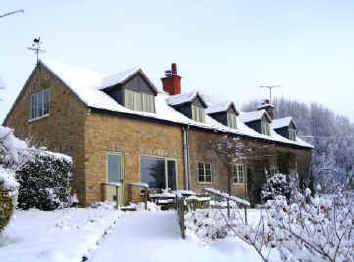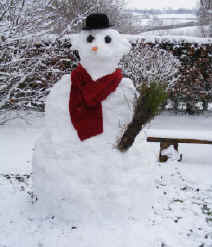 The home of Snape Stakes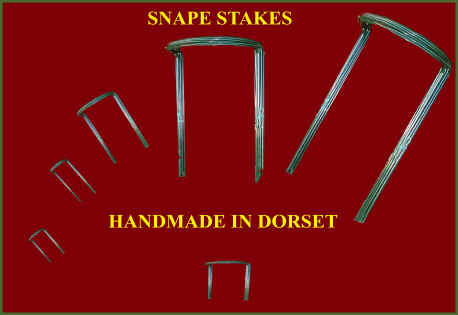 Our Victorian-style half-hoop unpainted Plant Supports are made of solid steel which will not buckle, bend or split. They are so easy to use. Simply push into the ground to a depth of 3" - 6" depending on soil type to support plants firmly (even when they have flopped).
Because they are so strong they can be hammered into very stony soils. They can be pulled wider apart - thus expanding the arc - to accommodate larger clumps of plants. You can use several Snape Stakes around your plants, or back-to-back to form a circle. No linking necessary.
They are unobtrusive in the garden. They support plants firmly without throttling them, thus giving an informal look to your borders. Snape Stakes are so much safer than bamboo canes, which cause countless eye injuries.
Hand Made by Gardeners for Gardeners at
SNAPE COTTAGE PLANTSMAN'S GARDEN,
Bourton, near Gillingham, Dorset SP8 5BZ
ianandangela@snapecottagegarden.co.uk